A review and commentary on
the RCBS trigger pull gauge.
Firearms enthusiasts tend to accumulate..... stuff. Big stuff, small stuff, good stuff
and junk stuff. Amongst my 'stuff' is a tool that I've used for years, taking it for granted.

It's the RCBS trigger pull gauge.
This gadget sits quietly on one my shelves, coming out only when I question
a trigger pull weight or to verify a repair/adjustment. Purchased many years
ago for a specific job, it's become a part of my standard kit.
Why measure trigger pull? Sometimes curiosity is enough of a reason, but there's
more. Anytime a trigger is repaired or adjusted it should be checked. In the end
it's our shooting judgment that matters most, but the 'finger' does not always
speak the truth. Occasionally it takes an objective measurement. That's when this
particular tool earns it's keep.
It's simple and inexpensive, and works on just about any firearm. The results can
be surprising at times. A trigger that 'feels' wonderful might actually be rather heavy.
On the other hand, a horrible trigger pull might be quite light in reality, just so scratchy
and rough that it feels heavy.
The gauge is simple in its use. The indicator must be moved to it's zero position, and the
tool held in one hand while it's trigger bar is placed against the trigger.
Align the tool so that it pulls straight to the rear as much as possible. The firearm
must be securely support either with the other hand or in a gun-vise. Pull with a slow
and steady pressure rearwards on the tool, holding the handle bars between the fingers
of the hand. When the trigger breaks, stop pulling! The release of the trigger pressure
will allow the pointer to bounce back to zero while the indicator will remain at the
break point. Since there is no charge to use the tool, go ahead and measure the
same trigger multiple times till confidence builds in the results.
I find that two or three measures are enough to convince me I've done it properly.
In demonstration here are two Turkish Mauser model 1938 rifles. Each was
treated to a session with the RCBS trigger pull gauge.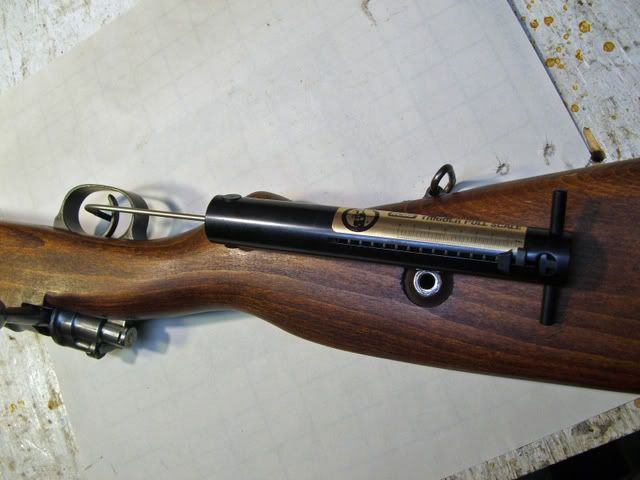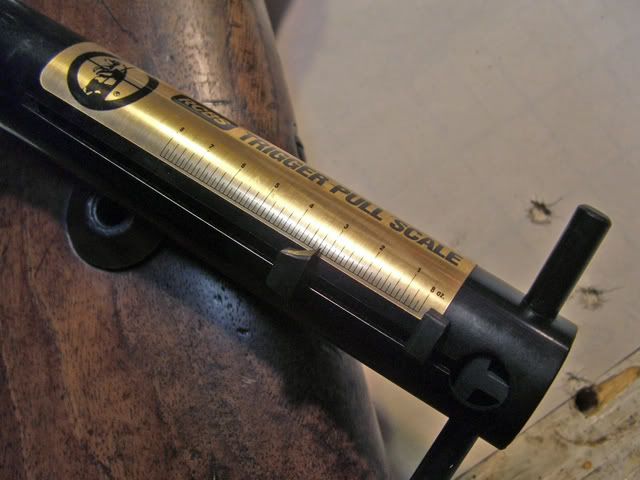 As can be seen, there is a significant difference in the measurements. Why?
Well....... here's how it is.......



One of these old Turkish Mausers has a Timney trigger. I wonder which one?
One of the uses I put this tool to is getting an objective reading on trigger
pull after servicing a rifle. In the case of a Mauser mil-surp, and most others,
there are specific points that should be well cleaned and lubricated. Doing
so can completely alter the trigger feel of a rifle. That said, it will often
mask the true trigger pull weight which should not be too light for
safety reasons.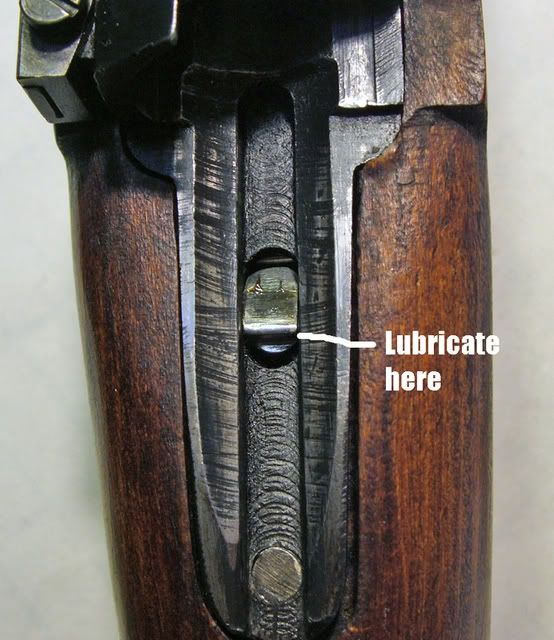 For my rifles I choose one of two lubes to use on action and trigger parts. On finely machined
and precision firearms I use a S+W friction block oil with PTFE lubricant.
For my mil-surp rifles and other such animals I use a Moly grease. Only a tiny
bit needs to be applied. As an applicator nothing more complicated than a
Q-tip is required. Personally, I use an economy pack of Q-tips every month
in cleaning and servicing my collection.
The Turkish Mauser pictured above, still fitted with it's original trigger, was treated
to a dose of moly grease. While it certainly felt far better in action, how did the grease
change the actual trigger pull weight? Not the least bit! A post service measurement
returned the exact same result as the initial measurement. This illustrates why
a trigger pull gauge can reveal the objective reality of a trigger pull weight.
Midway USA sells this gauge for about $33.
They also sell others as well. This might seem like a lot, but remember this tool
will never wear out or go bad as long as it's well treated. It's simple, accurate,
easy to use, and fast. Since I find it possible to make it work right every
time, we must judge it to be nearly idiot proof.
My recommendation: A serious firearms hobbyist should probably have this tool.
Anyone who works on firearms, even a hobbyist, must have a trigger gauge and
the RCBS unit fills the bill nicely.