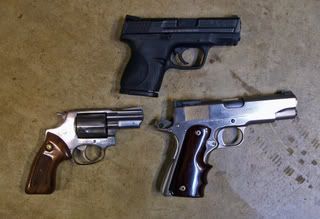 A bit chilly, but still nice. The rifle range was busy with folks doing last minute damage to their hunting rifles, and I had the pistol range to myself.
Along for the ride: My colt, the M+P, and my old Taurus snubby.
With the M+P I wanted to try the cast bullet loads I mentioned in a prior post. I cast these myself and would like a decent target load to be the outcome.

The load gave six inch patterns at fifty feet, about plinking accuracy. This would be fine for short range draw and fire practice though...
The M+P 9c, as small as it is, has regularly given groups about an inch wide at fifty feet with it's favorite defensive load and Gold Dot bullets.
As usual, function was flawless with the Smith and Wesson.

For those who followed the saga of the worn magazine release catch, here is an update: After months of carry and hundred of rounds, the new catch that S+W installed now looks like this: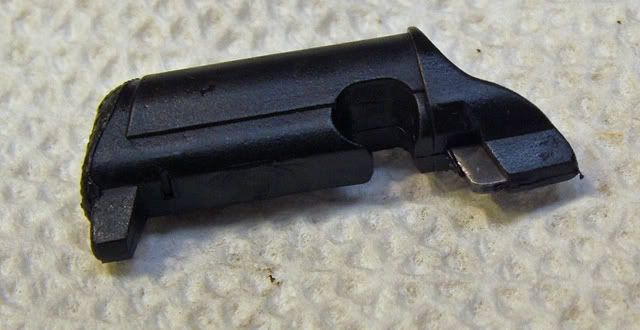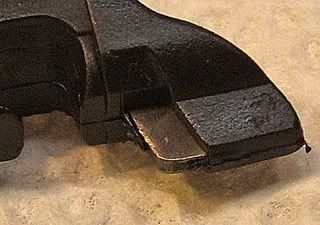 There is very little noticeable wear and it is still functioning perfectly. I can hope this issue has been dealt with. I will say...... I have not had one inadvertent magazine release since S+W replaced the catch.

Previous reports and photos can be found here.


Todays fun left me with some seriously dirty pistols to clean.
Tearing down both the Colt and the M+P, the difference in design is striking.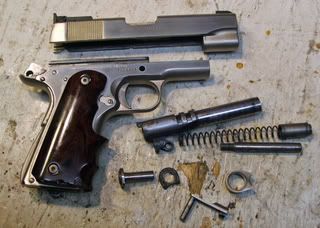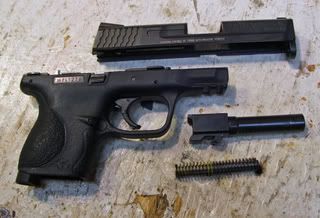 But.... all other differences aside, I still ended up with about a thousand filthy Q-tips and two pounds of dirty paper towels when I was done....