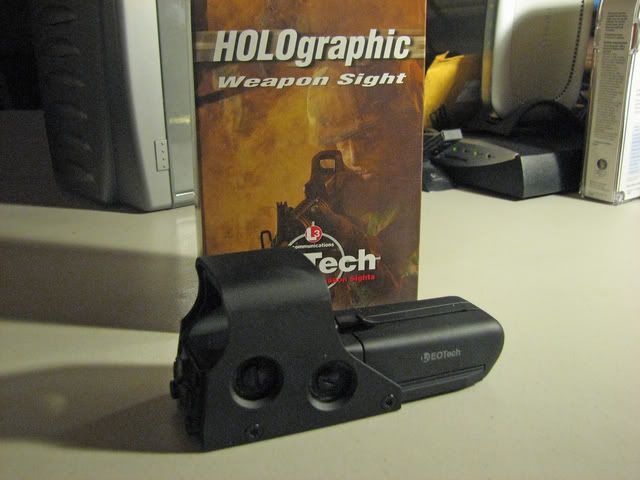 The day I bought my Armalite, I planned on a holographic sight for it.
Not a red dot, not a magnified optical, but holographic.

In that genre there are many competitors, but all are measured by one standard.
Eotech.

To make any optics mount on the Armalite requires a special base.
While I normally shy away from something that requires parts that are
nearly custom made, this optical sight base design makes sense.
There are several makers of these bases, Armalite included.
I chose the Stormwerkz, as it's review are very good. I was not dissapointed.

With the holographic sight, there are any number of choices. MidwayUSA
alone lists 38 as I write this. I chose the Eotech 512 based on features, reviews, and price.

The 512 takes AA batteries, something I appreciate. This means the bricks of 'film' we buy for our digital cameras will also serve the sight, although with over 600 hours run time on a pair of batteries I don't see this breaking the bank. Should I splurge for some more expensive lithium batteries, I can make that over 1100 hours.

The Eotech reticle is not quite a one-of-a-kind, but it might be the best I have seen. Walking a large gun show yesterday, specifically to seek out and try different sights, I must have picked up twenty distinct forms of red dot and holographic sight. The reticle on the Eotech is clearly heads above all of them.

I had the pleasure of being accompanied by a non-shooting friend. While not a 'gun' person, he is more than a little technically competent. He tried the sights as I did, listening to my explanation of different features. When I finally found the only vendor to have an Eotech in their case, my friend immediately exclaimed the difference was worth what it cost.

The Eotech circle/dot reticle is different in that the 65 MOA circle is 'fuzzy', while the 1 MOA dot is quite precise.

What does this mean to the shooter?

In trying the various sights, I found a Chinese knock off of the Eotech at about one half the cost. It had a very sharp ring, and a somewhat larger and less precise dot. I found the Eotech version, with the fuzzy ring, to be extremely quick to bring on target. Compared to the sharper ring, it was almost twice as fast depending on the back ground.

Some reviews mentioned this 'fuzzy' ring as a flaw. I think it is very carefully designed to be what it is. The so-called 'fuzz' looks to be an artifact of the projectors design, and done on purpose. Whichever way it's there, it works very, very well.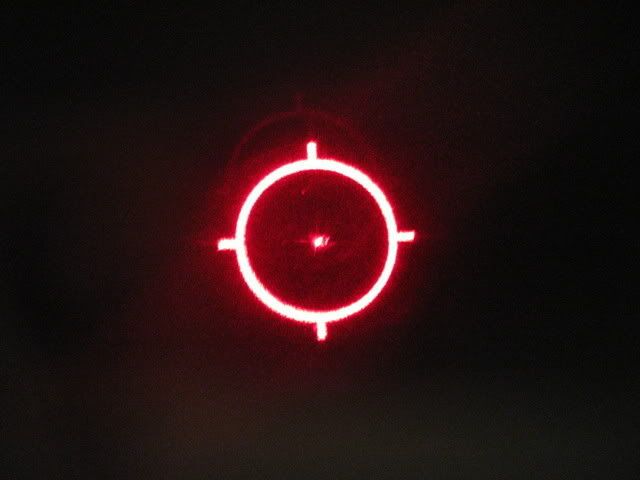 The controls are simple. On this model, only two buttons control all the features. They are rubberized and recessed, protected from rough handling.
Push the right one, it turns on. Push it again, the red reticle gets brighter. Push the left, it gets dimmer. Push both a moment, and it goes off.
The sight also has an 8 hour automatic turn off feature if left on and undisturbed.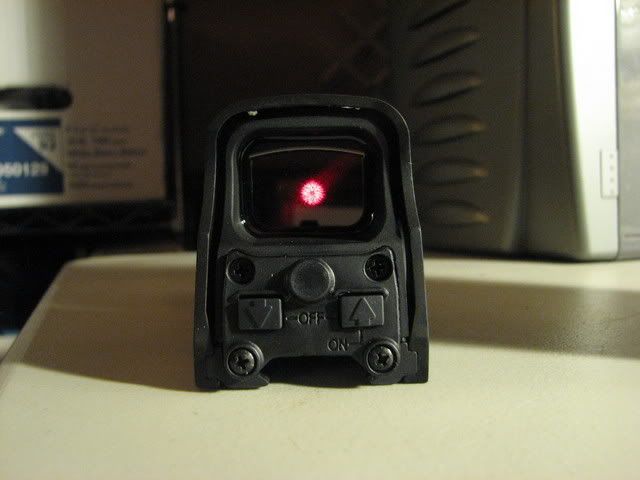 Mounting the sight took less than five minutes. One tough recessed allen headed
screw and one wrench, installed it on the Picatinny rail in moments. The sight also comes with an extra screw, having a large knurled head for thumb mounting, with a coin slot in it. I chose the recessed allen head as the sight will not be coming off the rail anytime soon.





Impressions:

This sight radiates 'tough'. It has a very thick shield around the works, and I think that accounts for a good part of it's weight. I had no qualms about handing the sight to the carpet sharks inhabiting our home, to satisfy their curiosity. The children in this house could destroy an Abrams tank armed with nothing but rubber mallets, yet this sight seemed proof against their magic.

Mounted on the rifle, the impressiveness does not end. It takes only moments to get used to the sight picture, as it's as natural as can be. Simply focus on the target and bring the rifle to your line of sight. Don't actually look through the sight, just let it slide into the field of view. Once there, the reticle floats into space between shooter and target. Place the dot on the target...

I am beginning to understand why this holographic sight is so popular with our troops in battle. It's fast,

very fast.

Easy to use and seems almost bullet proof.

The price... is steep. More than half what I paid for the rifle it's on. But, you get what you pay for, and in optical sights that's more than true.

Photos to follow...............