This is an unauthorized and non-endorsed review. That means I can say any
bloody thing I choose about this widget.

Ever since I bought an Armalite AR-180b, I have been fascinated by the unusual scope mount bracket. It's part of the upper receiver and comes on every rifle of this make. My understanding is the same mount was on every AR-180 as well.

It's a sorta wedge shaped affair with edges made to dovetail a mount tight to the receiver. The photos make it clearer than I can describe.

The mount itself, as supplied by StormWerkz, is very simple unit.
Pictured here, the mount has a pair of steel Weaver style rings and an
old 6x scope I had spare. I hope to mount a holographic sight on this
rail mount at a later date.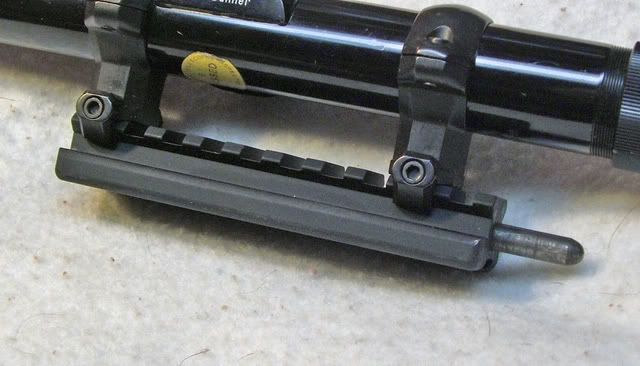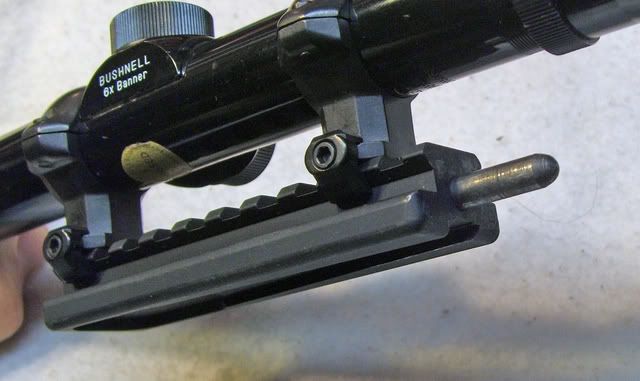 In use the spring loaded plunger is placed against the front face of the
factory sight housing. Pushing the plunger into the base, the unit is
simple placed onto the wedge shaped dovetail and released. The plunger
pushes the base forward and tightly engages the dovetail bracket.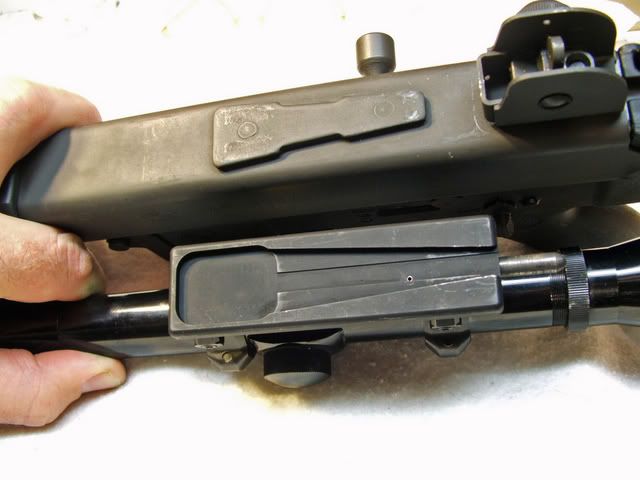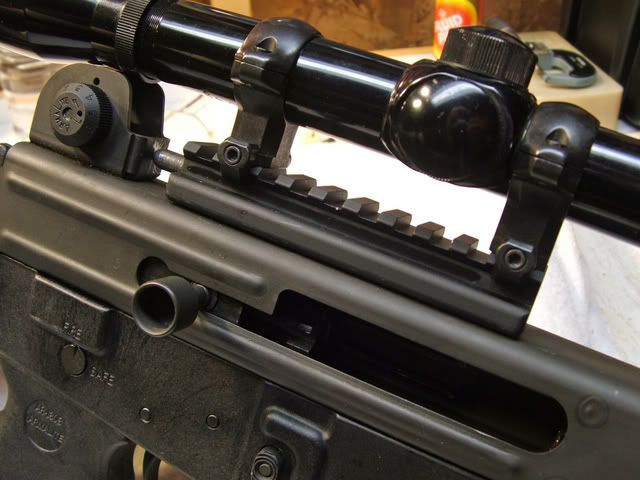 My first thought was that it would never hold tight enough. My second thought was that I paid an awful lot of money for a small piece of machined aluminum.

My third thoughts..... are that it was worth it.

The mount is very firm in fit, with no tolerance at all evident. The aircraft grade aluminum is perfectly machined and the heavily spring loaded plunger is well designed and easy to use. Finish is a flat anodized black and an excellent match for the rifle.

After only a few moments on the rifle, the mount was firm enough that it took
a tap of the hand to get it to release. Practicing installation and removal a few times, I was surprised to find that scope removal takes less than a second.
Installation of the scope/rings/base assembly takes less two seconds once the motion is figured out.

No kidding...... from no optics to fully mounted optics in about two seconds.

I'll report after range testing, but my first impression is a very good one.
It would be a surprise to me if this mount does not realign perfectly
every time it's installed.

My only wish at the moment..... I would like to see a way to lock the scope
base on the rifle. Nothing fancier than a small hole in the plunger and a
tiny clevis pin would do the trick. I'll ask the maker about it, but
it's a snap of a project for a person handy with a drill press.

StormWerkz makes this mount in two lengths. The shorter one
as I purchased, and a longer one that extends the full length of the receiver.
Both are reasonably priced and shipping is free.
I can see in the future having several of these mounts with a selection
of optics. One with a traditional scope, another with a Holographic sight,
and maybe another with light amplification. As an option, this base
is a well engineered setup.

My initial impressions..... Two thumbs up, and pass the ammunition!