I got some range time this weekend with my carry pistol, as well as the AR180b. Burning a few rounds through this weapon every range day keeps me in tune, at least as much as a broken down old school teacher can be.

I had picked up a box of cheaper 9mm ball ammunition as my reloading gear is packed away right now. I should buy a case.... but I can't get my head past those 500 prepped cases packed in boxes in a storage area.

Swapping out my Speer Gold Dot carry ammo for the ball, I did a mixed practice of bullseye and draw/fire.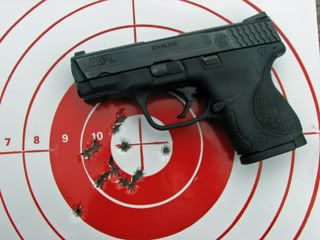 Along the way I had an unexpected, unplanned, failure. The magazine catch was tapped during draw (a slightly weak area on the S+W M+P). As a result, a few rounds into the practice the slide closed without stripping in a fresh cartridge.

Happily, practice and learned muscle movement took over and I did a tap/rack failure drill without thinking.



Notice the trigger finger is off the trigger till it's on target?
I didn't, till I watched the video a few times.

I think video of myself shooting will become a regular practice
tool. It makes sense. Athletic teams have been doing it for fifty years,
and it's easier these days. All I did was set my digital camera on the bench
and punch the red button. Slowing it down and cutting out the dead air time...
I used Windows Movie maker, a free deal that came with the operating system.

Yup, I will surely do that a lot more often.