Today was my first range day in a long time. A very long time. We'll let 'why' slide for now......

Today I choose to become reacquainted with my Armalite AR180b. It's a sweety, with an Eotech 512 mounted on it. All this has been covered before here.

I took two brands of ammunition with me, and decided to compare. Yes, I can shoot for shear enjoyment! But, I also enjoy discovery just as much.

I have mentioned the Privy Partisan .223 on this blog before, and decided to compare it with the Wolf brand of the same ammunition.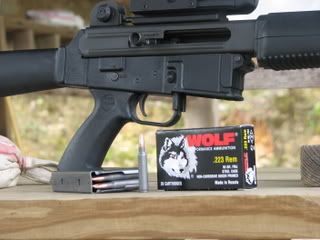 Both function well, and accuracy is not so far different that further testing would not be needed to be sure which is better. My impression is the brass cased Privy is the more accurate of the two, but I'm not certain of that without testing. Today was more about fun, and I wasn't really bearing down on the technique.

One thing noticed at once, as it's glaring, is the difference in impact point. The Privy struck about six inches lower than the Wolf from my rifle.

On this target, the Privy brass cased .223: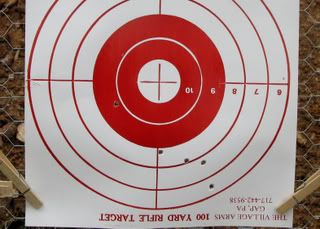 And on this one, the Wolf steel cased .223:




I think the difference is in velocity. Not having my chronograph set up today, I can only guess. But the recoil pulse was quite different between the two different rounds, ejection was very different, time back on target was different, and slide velocity seemed quite different.

The Privy Partisan seemed to be stepping along much faster, and thus was out of the barrel before it could begin rising much from recoil. This is called 'bullet time in barrel'. The slower a bullet travels in the barrel, the more time it has to be acted on by recoil before it leaves the firearm. This is why a .38 special fired in a .357 pistol will impact much higher than the .357 does. It's not because the .357 magnum shoots flatter (it does, but that matters little at 25 yards). It's because the weapon begins rising from recoil before the bullet leaves the barrel, raising the impact spot on target.

Perhaps these videos will help show the comparison better. In one, the empties are ejected rearward and the recoil pulse is clearly lighter. This was the Wolf ammunition. In the other, the empties eject forward and the recoil is quite sharper.


As I said.... it's mostly subjective. On the other hand, I made a pile of empties and had a ball. The range was recently upgraded, the weather was perfect, I had the place to myself, and life was just really good for a little while.