Uncle Mike
came to visit today, and stayed.
For now.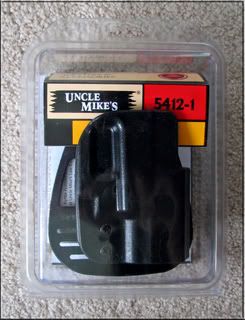 Well, to be more exact, I went out and tried on holsters for my Smith&Wesson M+P 9c. There is an upcoming steel match, and a slight chance I'll score an extra magazine or two that will allow me to use this pistol for the match. The rules require the pistol carried in a holster, and my Galco JAK slide just isn't made for match shooting.
Well, to be exact and
honest
… I just wanted to try out a new holster. The match is a fair excuse to buy one. I'm sure most shooters will understand that. Besides, it was
on sale
.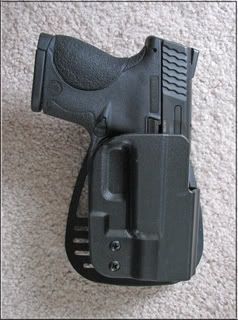 I was in the market for a Blackhawk Serpa holster, but they haven't made one for the M+P compact yet. The full size yes, but it's an inch longer than needed and I balk at a carry holster that's too big for no reason.
In the local gun shop,
always a fun place to visit
, I poked through the selection by Blackhawk, Don Hume, Galco, and Uncle Mike. Of the armfuls the shop had on hand, I finally settled on one that actually fit my pistol; An
Uncle Mike's Kydex paddle holster
, (#5412-1).
The 5412-1 is marked as suitable for the Glock 26, 27, 28, and 33. I tried it only because it looked close, and I had nothing to lose but time…. and time spent in a gun store does not count as time wasted. Later, looking it up on Uncle Mike's website I found it's also listed as for 'other 9mm and compact automatics'. I guess the M+P 9c is an 'other'?
Made of injection molded plastic, this holster has a very firm paddle arrangement for attaching to the belt. I found it would not pull off with any amount of obnoxious tugging on the pistol. In fact, I almost had to remove my belt to get the holster off. Compared to the Fobus I recently reviewed, the Uncle Mike's is much more secure on the waist.
Remarkable for a low cost holster, this Plastic wonder is fully adjustable for cant and tension. The holster can be angled forward or back, via mounting screws, seemingly enough to become a cross-draw holster if desired. The retention tension is adjustable via two screws on the front of the holster. It was an easy matter to adjust the holster's grasp on the pistol, although it was nearly perfect right out of the package.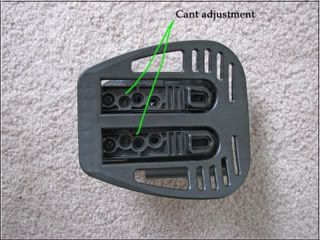 Mounted on the belt, the Uncle Mike paddle holster rides high. High enough to elicit the only real complaint I have so far. The pistol is carried so high the wearers arm must be bent quite far to draw. This is an awkward position, especially if the tension on the holster is dialed up. It takes some force to draw the weapon and can be difficult with the arm already bent that far. Leaning over a bit helps.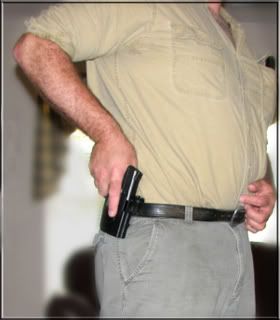 My thoughts.... This holster will be fine as a range-rig. For CCW it feels too bulky and sticks out too far. Now, if they could lose the bulky paddle and just give us some belt slots like the Blackhawk...... it might be a winner for CCW. These are my opinions, yours may vary.
Looking closely at the holster design, I am considering making a belt loop plate to replace the screw on paddle attachment. If I can make such a beast, it will pull the holster much closer to the body. I might also figure a way to make it an 'inside the belt' holster, which I prefer for concealed carry.
I know..... I can never leave well enough alone...... (g).