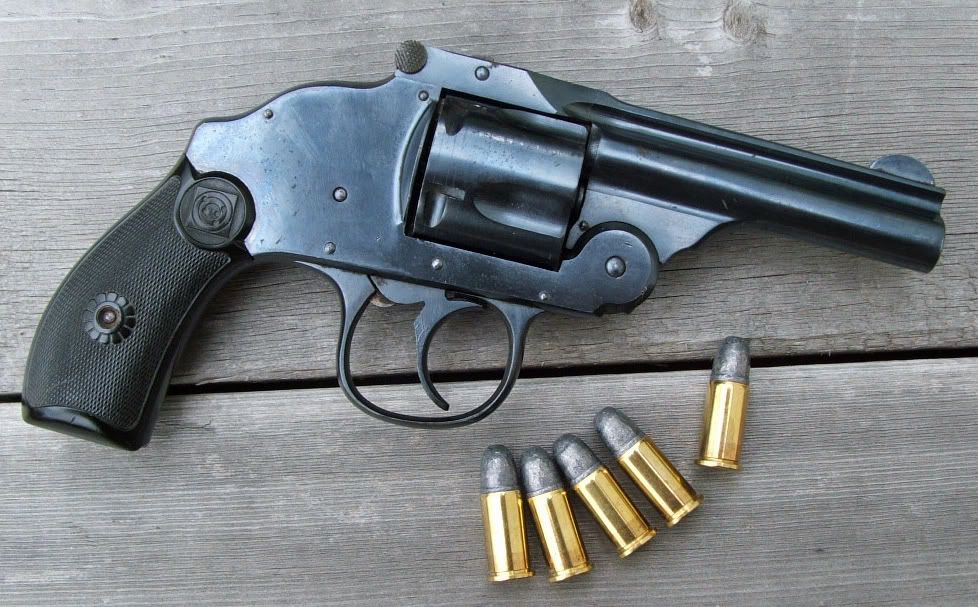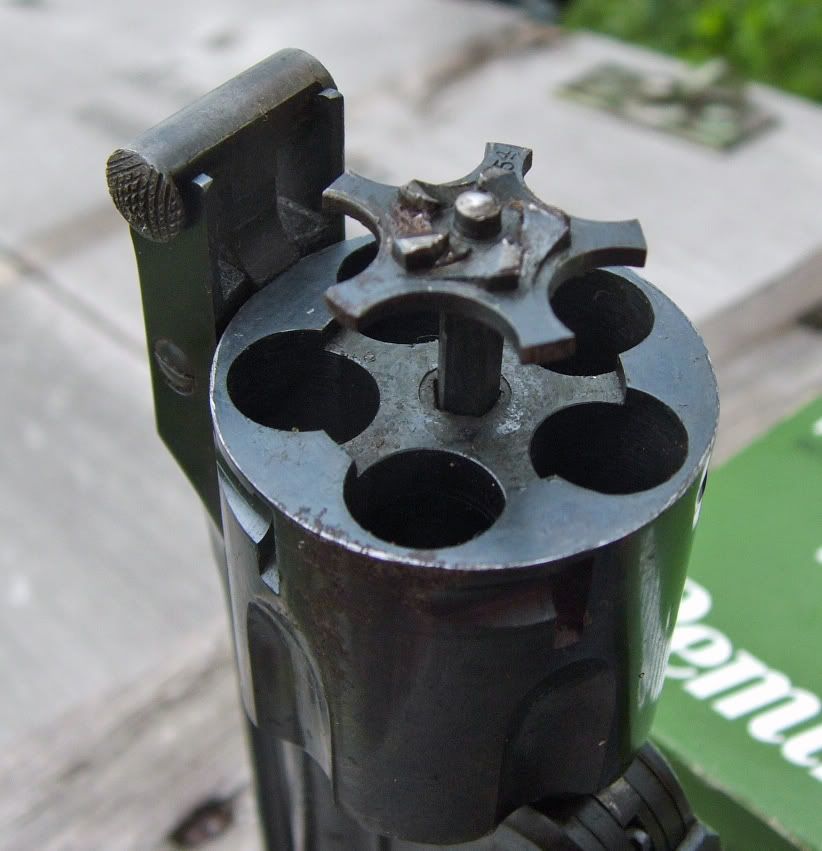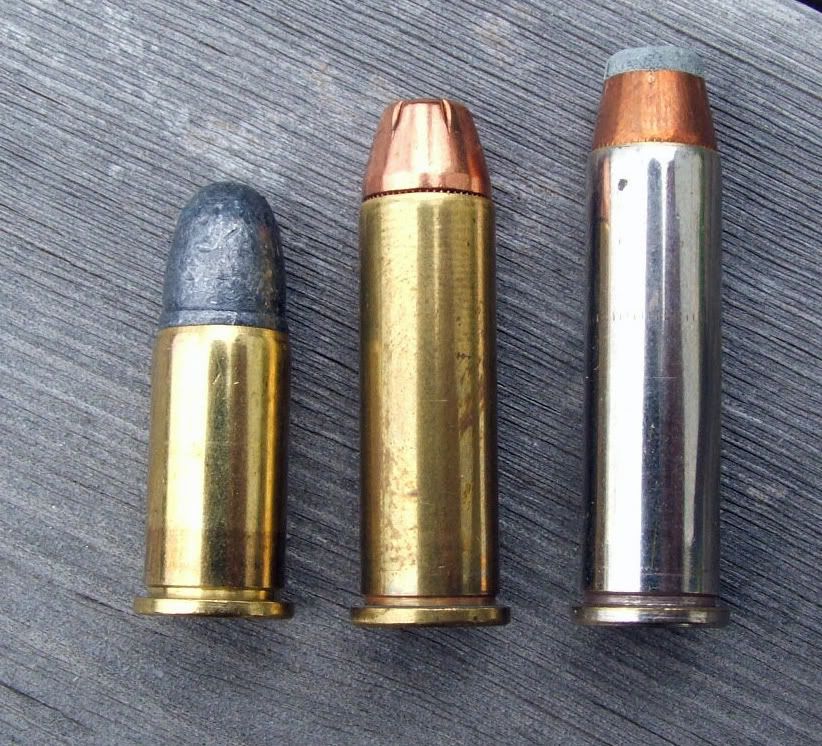 (click photos to enlarge)
(Note: This is a repost.... life's a bit too busy right now to research a quality post. So.... I reached back a bit and pulled this dusty old post out of the archives. I still own this pistol, and shoot it occasionally.)
A recent acquisition for the collection, and presented as received, is this little bit of history. A Harrington and Richardson top break revolver in .38 S+W.
H+R built these little jewels from the turn of the century till just before WWII. Coming in .32 Smith+Wesson, .32 Long, and .38 Smith+Wesson, they were never over powered by any means.
The top break revolver did not have a cylinder that swung out, but a frame that pivoted open revealing the rear of the cylinder. The early models did not have an automatic extractor, instead using a manual rod like a typical modern revolver with a swing out cylinder. Later models, like this, used an automatic extractor that ejected the shells rather smartly if the pistol was operated with authority.
One issue that plagued the concept was occasional jamming. If the star extractor managed to get above a case that did not get thrown clear, the case would fall back into the chamber and the extractor would seat above the case. This effectively jammed up the gun till it could be cleared manually, which took some small effort. It was something that happened rarely, and usually only when the shooter failed to let the extractor eject the cases as it was built to.
This particular pistol is in excellent mechanical condition, despite having literally been stored in a sock drawer the last decade. The grips are original and intact, something mildly unusual as the plastic often got damaged over the years. It has known some rust, but not too badly. All in all it's a decent example that will clean up nicely and is fully functional.
This later model is chambered in .38 S+W, an anemic cartridge by today's standards.
I have pictured it next to a .38 special, a round considered minimal for defensive use today. It's practically dwarfed alongside the ,357 magnum, although the family resemblance of all three is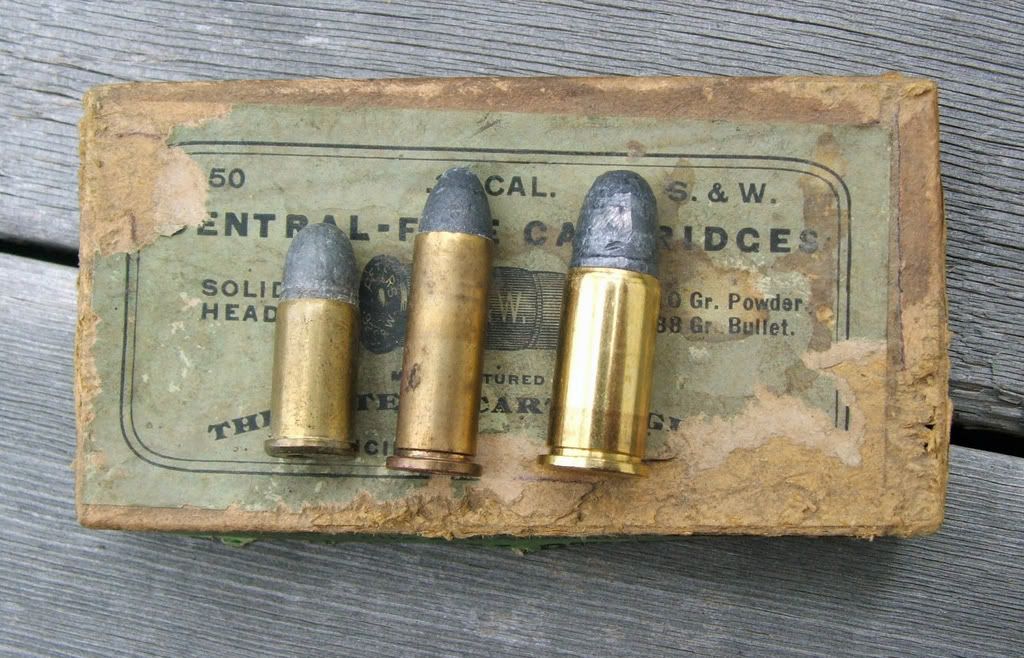 unmistakable. They are in fact a continuation on a theme, in each instance the case being extended to increase capacity, velocity, and stopping power.
Pictured alongside its contemporaries, the .32 S+W and the .32 long, the .38 S+W does show why it might have been preferred in its day. While the .32 long tossed a 100-grain lead slug along at 650 fps, the .38 S+W hit the same velocity with a 158-grain bullet.
Today a 158 grain .38 special moseys along at 850 fps and is considered just barely adequate.
This pistol will be stripped down, detail cleaned, and then spend some time at the range.
While not a whiz bang polymer high capacity high intensity wonder gun, it is a solid piece of history with generations of enjoyment and service left in it. Ammunition is available, and even when not it's especially easy to make from its offspring, the.38 special.
The American public purchased these pistols in the hundreds of thousands, with over a million being produced. While some makes were of questionable quality, the H+R built top break pistols were nearly on a par with Smith and Wesson.
Favored by shop keepers and home owners desiring some simple protection generations ago, this type of pistol is frequently found today in decent usable condition, and can be had for reasonable prices. There is a collectors market, but its usually a low dollar one. A pistol of this make and condition can often be found for under $150 with a bit of searching.

Another neat firearm for the collection!